Easily Relatable & Consumable
Readily Accessible & Affordable
Instant Multi-Modal Communication with speech-enabled and multi-lingual UI
including

• Text Chat
• Voice Call
• Video Conference & Virtual Interaction
• Remote Collaboration
• Conversational AI
• Transcription & Translation
• Text-to-Speech Conversion
• Speech-to-Speech Native Language Chat
• AI Assistant & Generative AI
• Inbound Voice Call from Any Telephone Device to Join Video Conference
• Outbound Voice to Any Valid Telephone Number (E.164)
• Real-time Recording in Multi-Media & Intelligent Search in Playback of Recording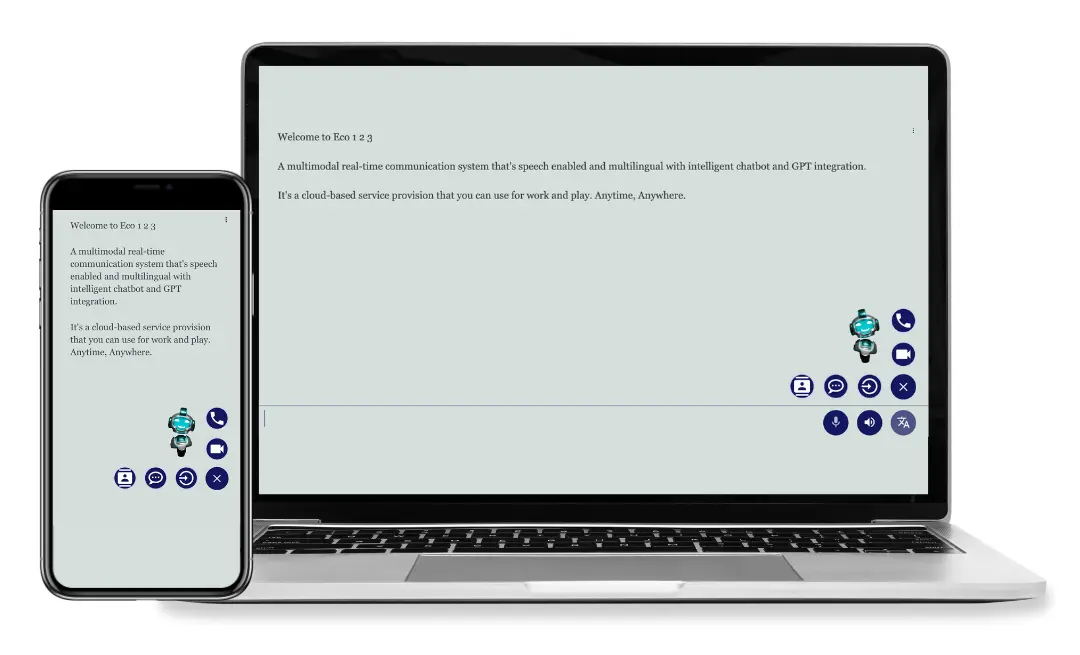 Across Geography
& Overcoming Barriers due to
• Languages
• Cultures
• Politics
• Economic Conditions
ECO123

• significantly enhances the efficacy and efficiency of work operations
• greatly extends the scope and reach of your addressable markets
• enables you to make telephone call at low cost when travelling abroad
• enables you to be reachable through public telephone network to receive a voice call from anyone anywhere when you are travelling abroad

​You can make out-dial calls to ANY valid telephone number, right from within a video conference.
That means you can connect with anyone, anywhere, anytime.

See What I See, Touch What I Touch
SWISTWIT: Virtually Pinpoint Anything in Real-Time, it allows you to virtually pinpoint and highlight specific items in real-time during video calls.
Perfect for detailed discussions, virtual tours, telemedicine and remote support.

How It Works?
For Professional Use
Boosting Productivity with Multi-Modal Communication: Effortlessly switch between text chat, voice calls, and video calls with just one tap.
Sign Up Now!
For Personal Use
ECO123 lets you chat, make voice calls, and engage in video calls with foreign-language speakers from all corners of the world.
Sign Up Now!